The diversity of their use led many companies of various industrial sectors to use our winches : food industry, metallurgy, chemical industry, car industry...
To lift or to move raw material, to handle containers... we are at your disposal to discuss your project and to find together a solution that will satisfy you.
Gantry crane with a cradle for maintenance operations in a rotating mill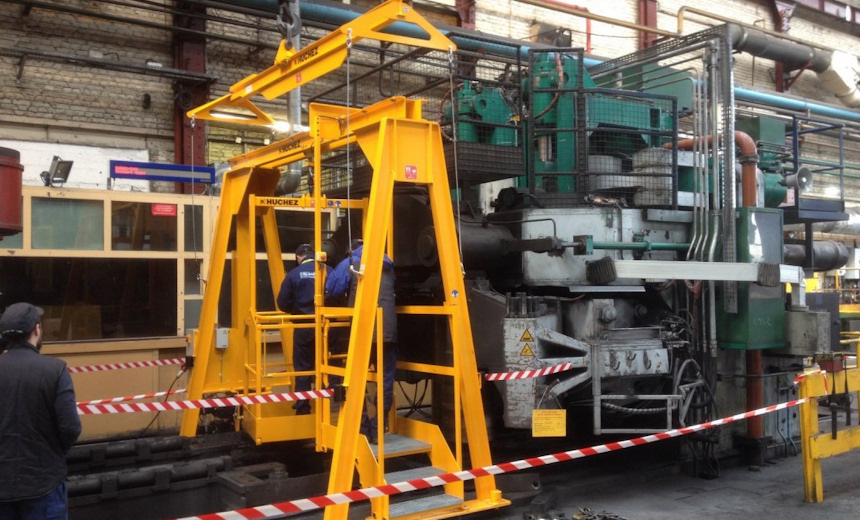 Presentation
The gantry crane and the cradle are used for lifting people for inspection and maintenance operations in a rotating mill.

Technical characteristics
Gantry crane equipped with a double winch system (the first one as a lifting winch and the second one as a fall arrester), a cradle, a retractable access bridge, safety working load (SWL): 140 kg (2 people with tools), working cable length: 8m, maximum working depth: 8 m, dimensions: 3.20 m height x 3.80 m length x 1.60 m width, a safety/emergency manual device (Crank on the fall arrester winch arm), radio control for the operator on the cradle, additional safety control device on the low voltage control box for the second operator, certified for lifting personnel (EC).
Specific solution
for rapidly covering and uncovering the SNCF waggons used for the transport of merchandise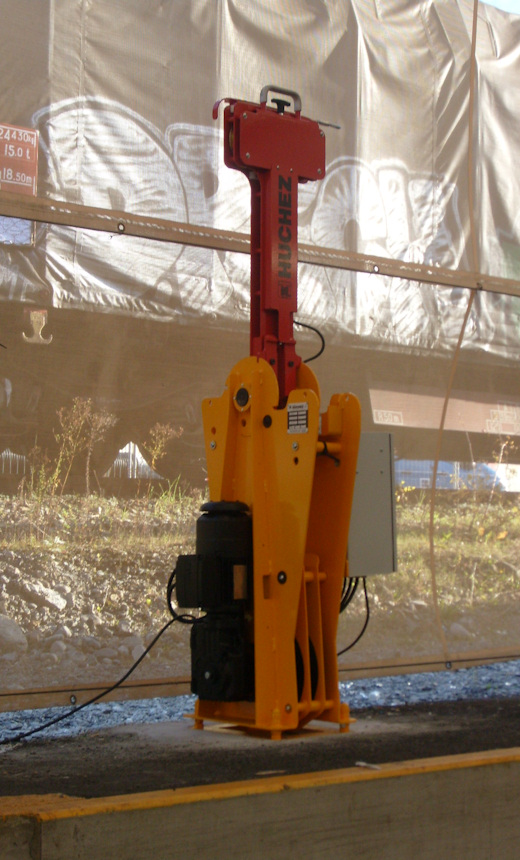 Presentation
A system on arms, installed on the platforms between two loading tracks. Each winch is positioned between two waggons, with four cable outlets (upline or downline on each of the tracks) allowing for the opening or closing of the covers of the SNCF waggons. The manipulators are controlled by one single radio control, for both the winding and the unwinding of the cable. Before each movement, the operator temporarily selects the manipulator selected for the manoeuvre.

Technical characteristics
Effort: 150 daN, speed: 25 m/min (45 m/min rapid and empty), a 28m Ø5 mm textile cable with a protective handle, shackle and hook. These winches are also equipped with a deflector and cable maintaining pressure rolls.
Horizontal capstan for conveyor drive in harsh environments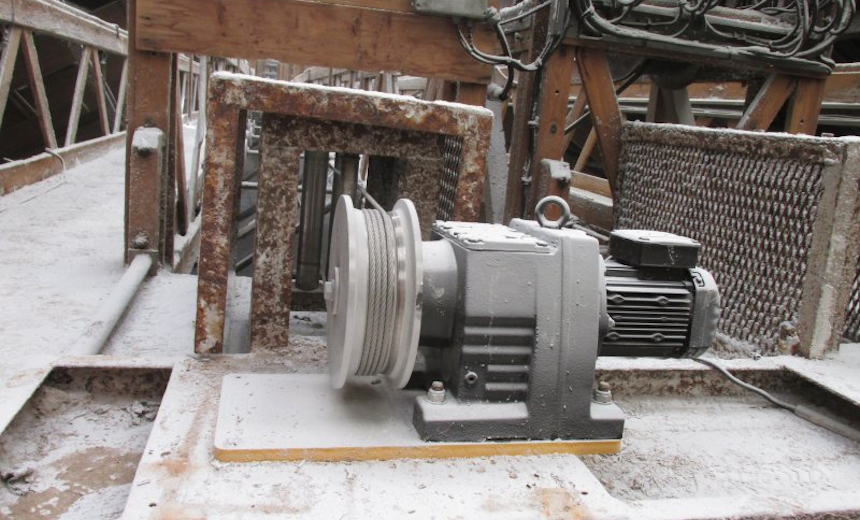 Presentation
Replacing an existing capstan with a new capstan.
The system is used to move a shttlecar. 3 or 4 turns are wound aroud the winch end to ensure rope traction. This solution enables a load to be moved two ways over an almost infinite distance and with reduced size.
Technical characteristics
Pulling force : 800 daN. Operating speed: 10 m/min. Protection in highly harsh environments: dust and water protection IP 65 (dust tight), motor and reduction gear protection: C4 (resistant in marine and salt water environments, gearmotor shaft and screws in stainless steel, steel chassis with marine paint, winch end in stainless steel.
Treuil enrouleur à tension constante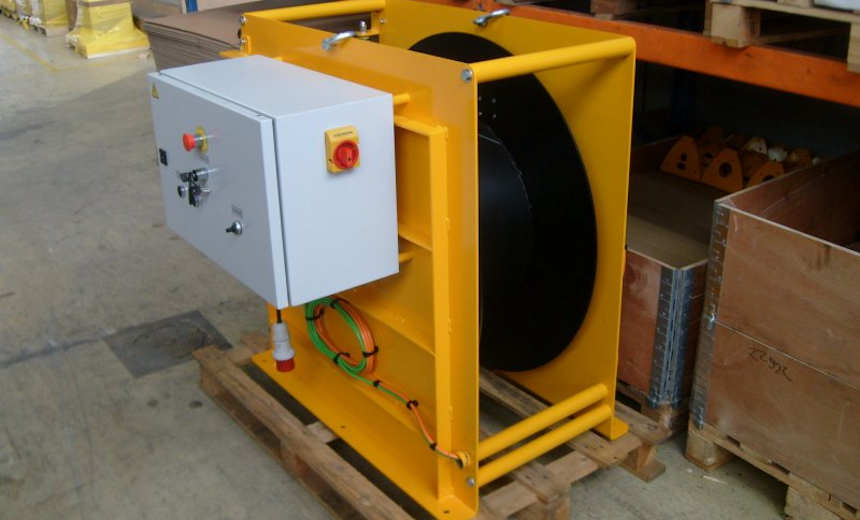 Presentation
Ce treuil de halage est destiné à enrouler un câble il exerce un effort limité quelle que soit la situation. L'effort de traction est réglable par un potentiomètre.
Technical characteristics
3 modes d'utilisation (manuel, automatique, tambour libre/débrayé), effort maximal de tension à la 1ère couche : 80 daN (60 daN à la 5ème couche). Vitesse maximale de poursuite à la 1ère couche : 75 m/min (100 m/min à la 5ème couche), vitesse maximale à la 1ère couche en mode manuel : 12,5 m/min (16,5 m/min à la 5ème couche). Commande sur coffret : sélecteur pour mode manuel et mode automatique, bouton enroule / déroule, potentiomètre pour le réglage de l'effort dans le câble (de 0 daN à 80 daN). Tambour débrayable levier sur le réducteur : Ø 508 mm / Longueur : 250 mm. Capacité : 120 m de câble Ø 25mm. La limitation en effort est active même en mode manuel.
Wagon pulling winch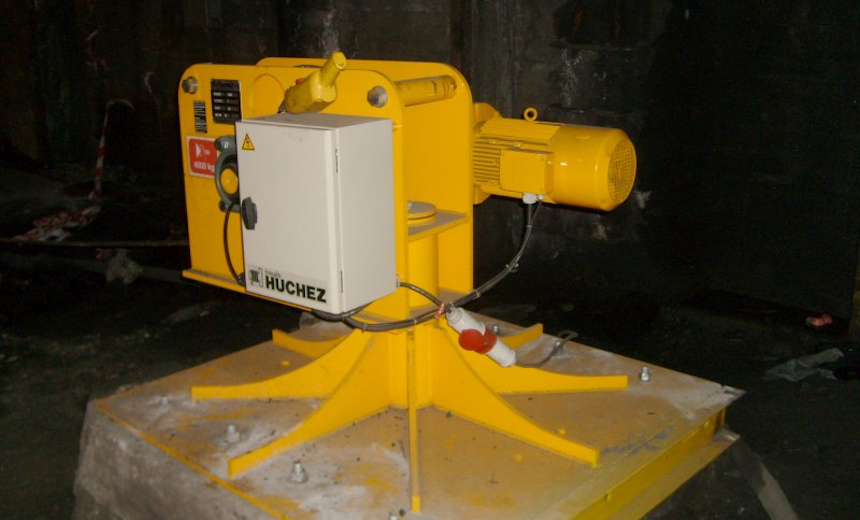 Presentation
This winch used to pull wagons is directly replacing an old system. As the previous one, the winch is mounted on a pivot to accompany the wagon in its deplacement.
21 t lifting winch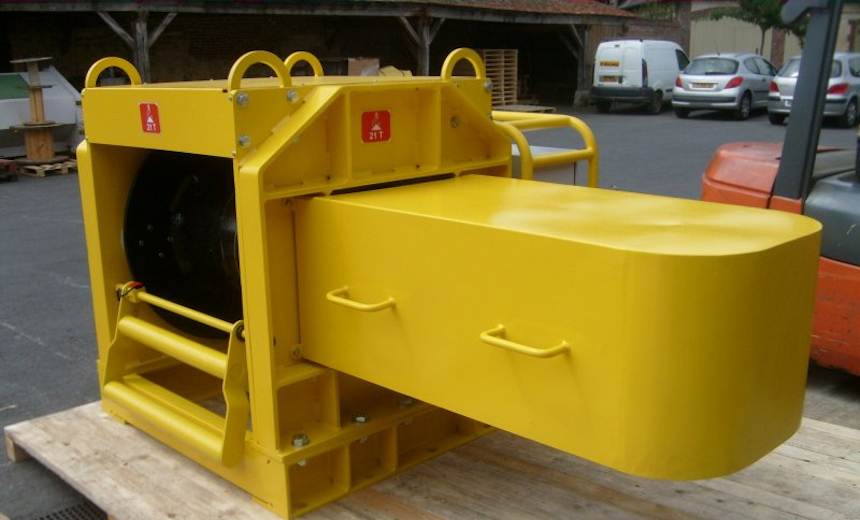 Presentation
Winch used for the maintenance of transformers.
Technical characteristics
Capacity: 21 t with 70 m of wire rope (diameter: 32 mm). Speed: 4m/mn, power: 400 V -50 Hz. Wire rope capacity: 4x19m of stainless steel wire rope (diameter: 5 mm).