In this sector, our winches are used in various applications such as survey and study of seabed, holding captive balloons...
Our engineers are at your disposal to find a solution for any of your project. Do not hesitate to contact us !
Winch for captive balloon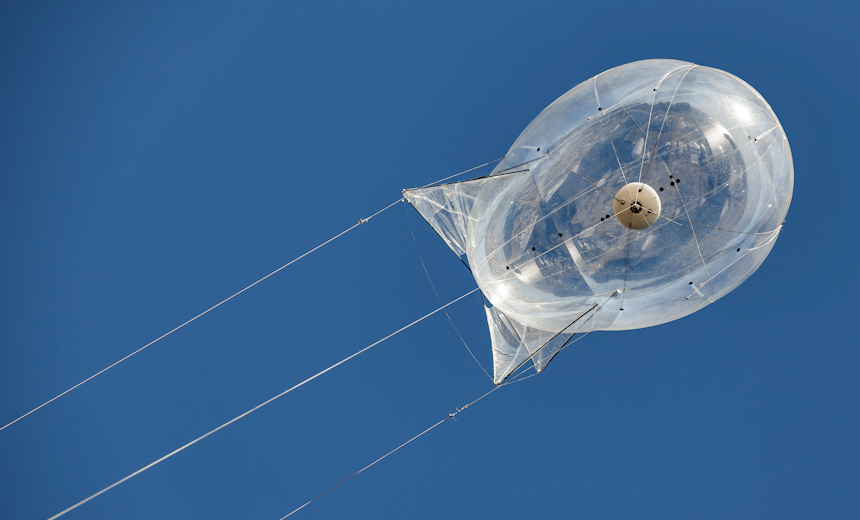 Presentation
A solution based on an electric haulage winch with the patented Dynamic Power Optimization (DPO) system allows a variator to adapt the speed of the winch to the required effort at all times, a rotary collector for the power supply to the balloon and the optical fibre, a manual emergency control for handling the balloon even without electricity.
Technical characteristics
Maximum brake retaining force : 1,800 daN (on the first layer). Fitted with 180 m of textile rope, upper and lower limit safety switch, an electrical unit including "Voltage present" and "Emergency stop" light on the box, variable speed drive using variable frequency, braking resistance...
A HUCHEZ winch used by scientists in a Arctic research programme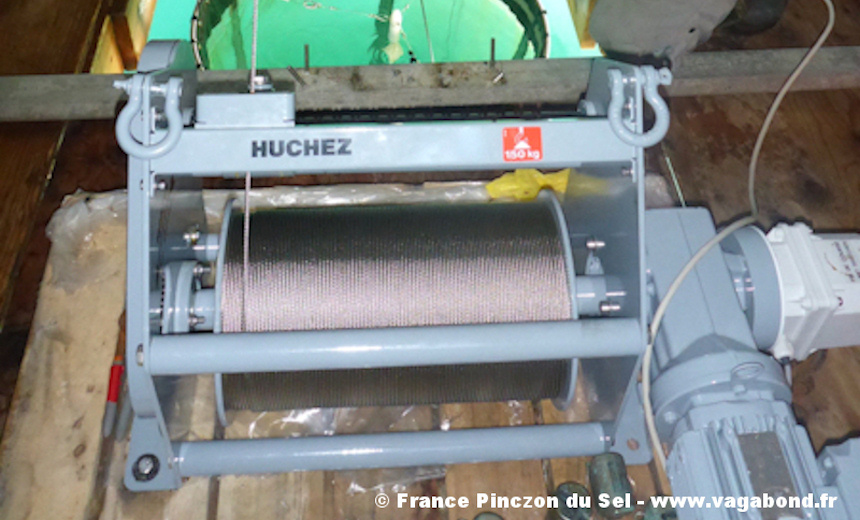 Presentation
The winch with a tripod as an anchorage point overhanging a hole made in the ice is used by the scientists to lower and lift various oceanographic instruments (sampling probes, etc.) as part of their research.
Technical characteristics
Lifting capacity on last layer (max. load): 150 kg. Adjustable speed on last layer: from 61 m/min to 3 m/min. Capacity: 400 m of Ø 4 mm stainless steel rope with stainless steel hook. Mechanically welded chassis structure and smooth drum. Upper and lower limit switch. Cable guide using cross-threaded screw. Electrical unit including: 230 V single-phase winch power supply, very low voltage control (lifting, lowering, potentiometer and emergency stop), variable speed drive using variable frequency, fully programmable acceleration and deceleration ramp, braking resistance, button activated remote control with flexible cable. C4 type marine paint.
Inspection well mobile crane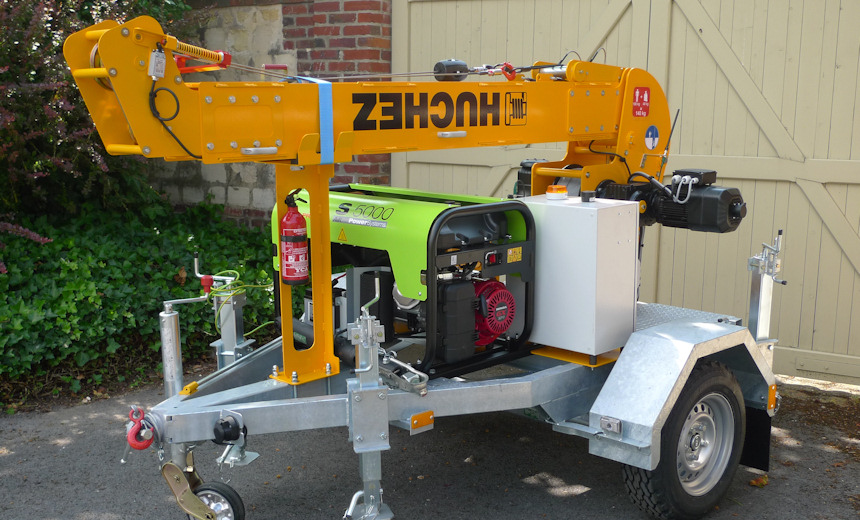 Presentation
Set consisting of a trailer, a main winch, a security follower winch, an ergonomic chair and a petrol generator. APAVE certification for lifting personnel.
In this case, the crane is used to lower the geologist responsible for taking samples that will allow him to study the composition and richness in ore of the ground for which extraction is proposed.
Technical characteristics
Average lifting speed: 15 m / min, max useful stroke: 115 m, max payload: 140 kg, IP55 protection against dust and water, rated power for lifting motor: 0.64 kW, electrical box comprising low voltage control, variable speed via frequency inverter, acceleration and deceleration tables, braking resistor, 200 m range radio, backup remote control.
Spooling gear winch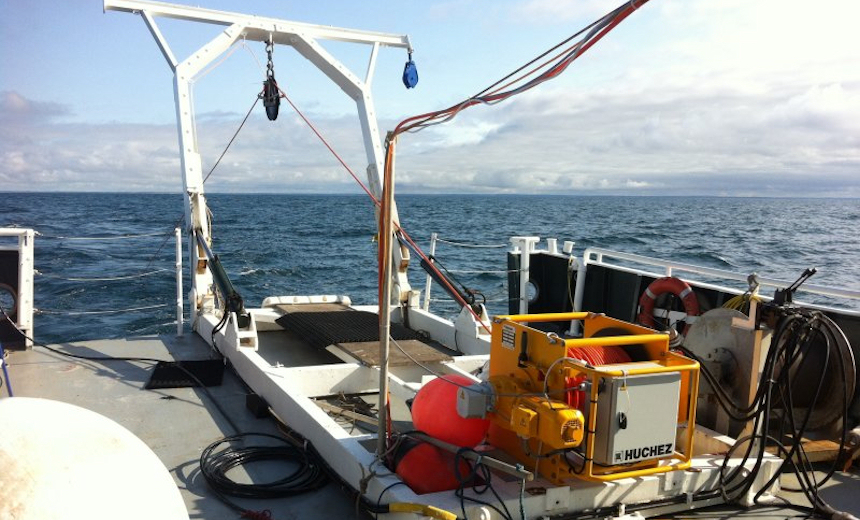 Presentation
This winch is used for subsea samples.
Technical characteristics
This fast winch (150 m/mn) is equipped with a spooling gear to guide the wire rope along the drum. It is also equipped with a speed inverter and is controlled by a joystick.
Winch with slip ring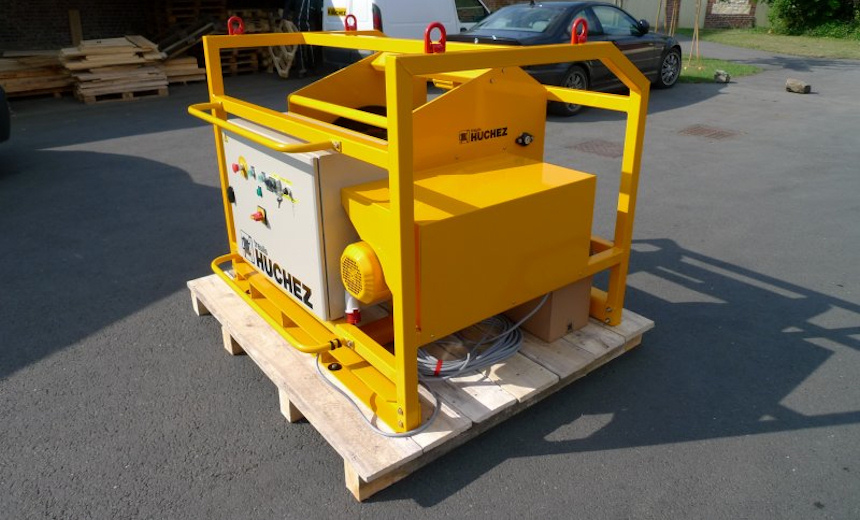 Presentation
Winch used in the analysis for seabed with a 14 contacts slip ring (including 3 RS232 for communication). Power 230 V single phase via speed inverter.
Technical characteristics
Pulling capacity: 200 daN, nominal speed: 40 m/mn.
Winch for electro carrier cable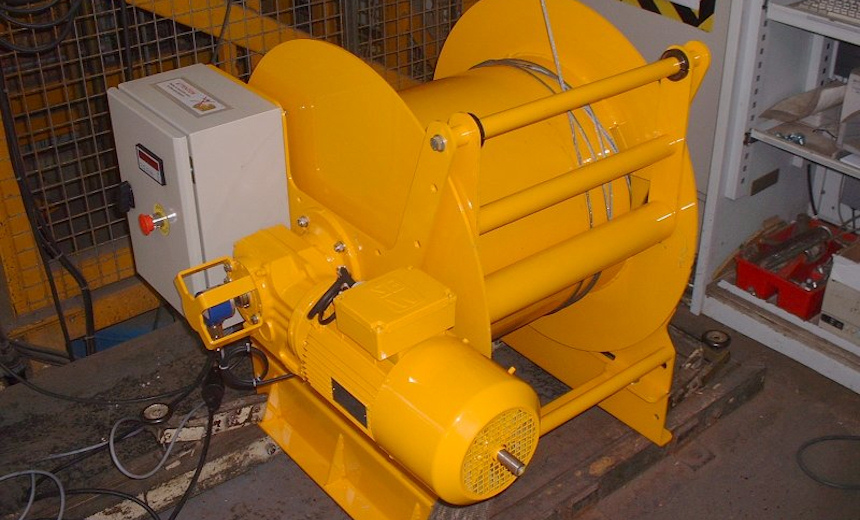 Presentation
150 kg capacity winch used to manage probes.
Technical characteristics
Structure, frame and drum in mecano welded, lifting speed: 25 m/mn, power with 30 m long cable in single phase 230 V on generator. Wire rope capacity of 180 m with Ø 19,2 mm. IP 55 protected.
Options: spun length counter, protection by sandblasting, primary epoxy and polyurethane finish, speed variation via frequency variation, effort limitation by measure of the current intensity by the inverter, rope press roll, slip ring.
Winch for captive balloon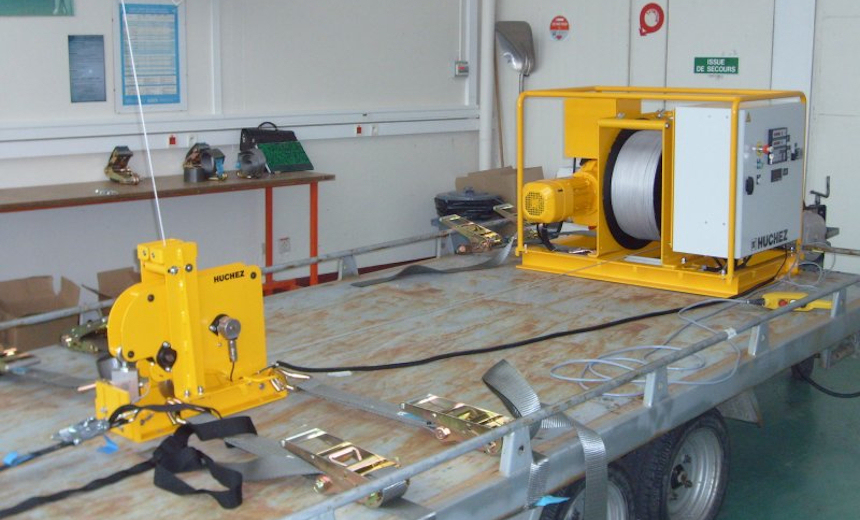 Presentation
Winch used to hold a captive balloon during a scientific experiment. The balloon is at an altitude between 300 and 500 meters. An autonomous antenna is suspended to the balloon to detect cosmic showers in 3D. The data are then transferred to a computer.
The winch is strapped to a ballaster trailer.
Technical characteristics
Capacity of 350 kg, variable lifting speed: from 3 to 30 m/mn at the first layer and from 4 to 40 m/mn at the 11th layer, setting of the speed by potentiometer, wire rope capacity: 750 m.