The harbors and maritime transports have an essential part in the international exchanges, not only to import raw materials such as oil, minerals, coal, fertilizers or food industry products but also for exchanges of manufactured products.
Being a priority in the "Grenelle de l'environnement" (open multi party debate on ecological and substainable development) the inland transport is an important sector of our economy.
In this field, HUCHEZ Ingineering is frequently asked to develop winches to be used in dams, pull boats, make subsea samples...
Vertical capstan for mooring lines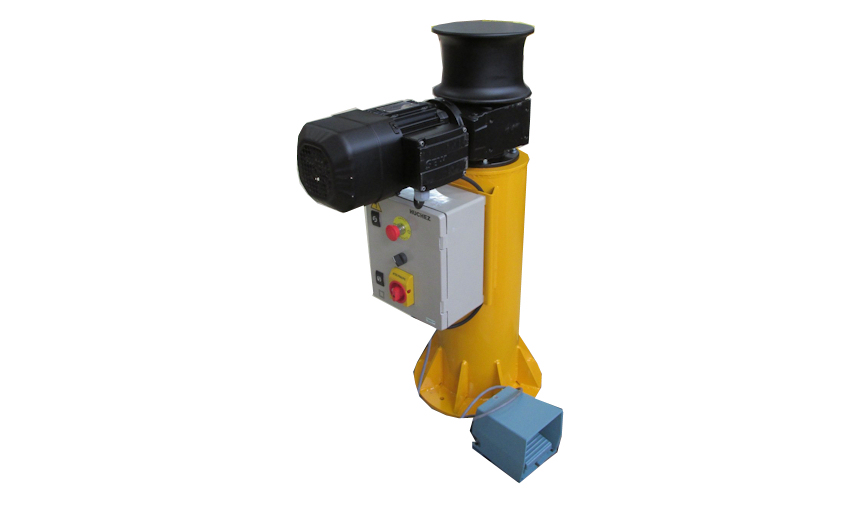 Presentation
The capstan is used to pass heaving lines (lightweight mooring line) by winding 2 or 4 turns of rope around the winch end.
Technical characteristics
Winch end capacity: 200 daN, haulage speed: 35 m/min, dust and water protection: IP 55, surface protection: C4 (anti-corrosion), polyester -covered electrical unit (adapted to marine environments, corrosion-resistant), pedal-activated remote control with flexible 3 m cable.
Tension-regulating winch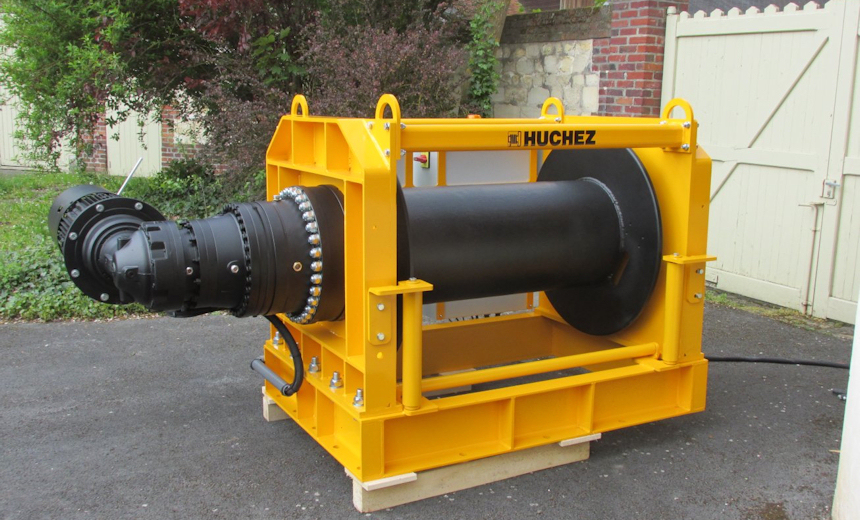 Presentation
The system is designed to position an aggregate transport barge of 13,000 t on an off-shore loading wharf. The barge is moored at two turns placed off-shore and maintained in position by two winches 300,000 N (30 T) installed on board. The winches automatically keep tension constant (adjusted by the operator) at each hawser. This function, called mooring, enables the barge to be kept at its loading position during filling.
Technical characteristics
The barge, the size of a football stadium (135 x 35 x 7 m), keeps its position, regardless of exterior contact: tipper trucks, wind, swells, tides, etc. These winches are equipped with ODP option (patented HUCHEZ technology), which enables the winch speed to be increased automatically under lighter loads. These winches are equipped with a 42 mm diameter textile rope. Average traction force: 28500 daN, average theoretical clamping force: 28500 daN, average operating speed: 7.5 m/min.
Marine hauling winch for docking assistance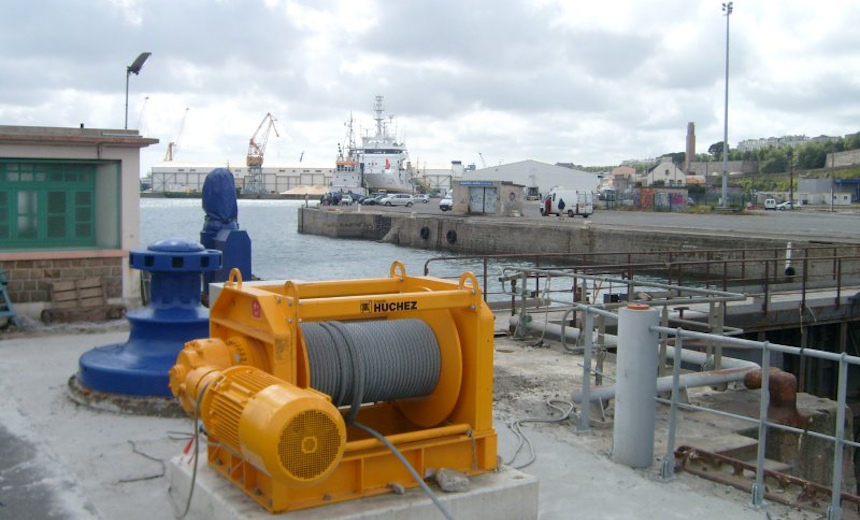 Presentation
10 t pulling winch, 30 tons holding capacity to dock ships in Brest's harbour.
Technical characteristics
These winches are controlled by joystick or radio control with indication of effort by measure of current.
Power 30 kW on frequency inverter. Speed 16 m/min.
Spooling gear winch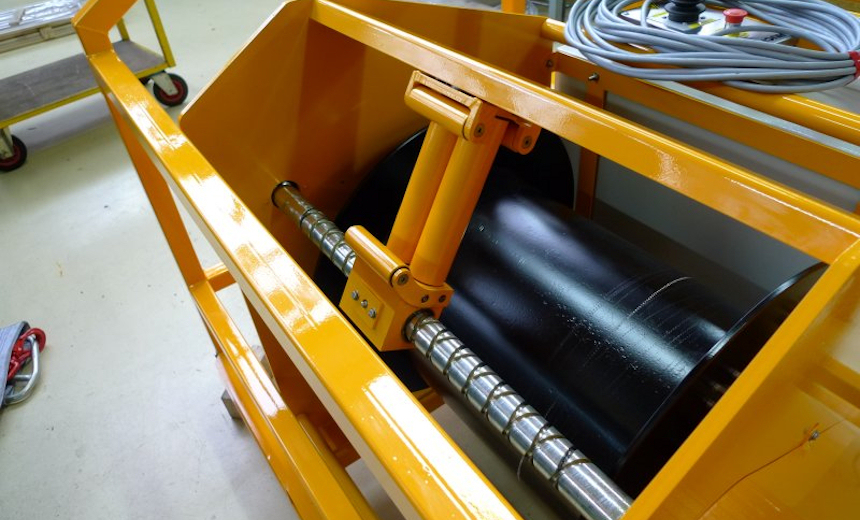 Presentation
This fast winch (150 m/min) is used for subsea samples.
Technical characteristics
Equipped with a spooling gear to guide the wire rope along the drum. It is also equipped with a speed inverter and is controlled by a joystick.
Winch trolley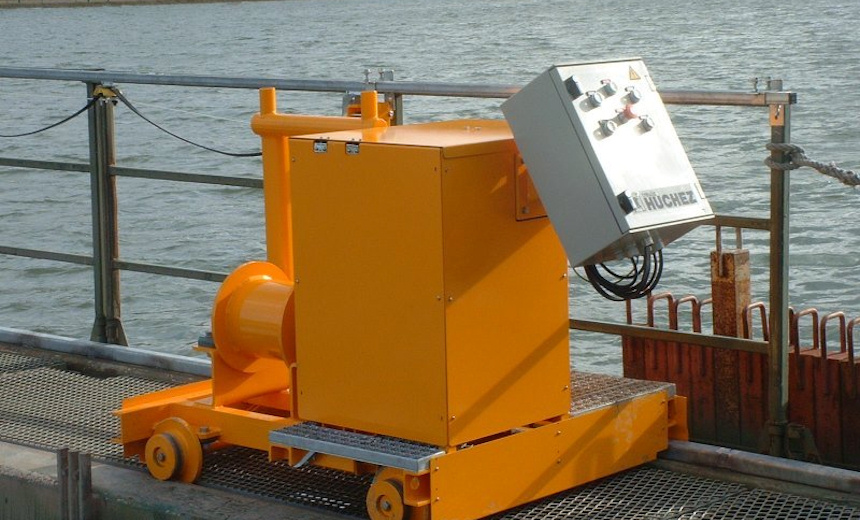 Presentation
This winch on a trolley is equipped with an anti tilting system. This chain system directly replaces a manual winch dating from... Napoleon III !
Technical characteristics
The lifting and movement of the trolley are electric. Two manual emergency systems have been provided (lifting and moving).
Hydraulic winch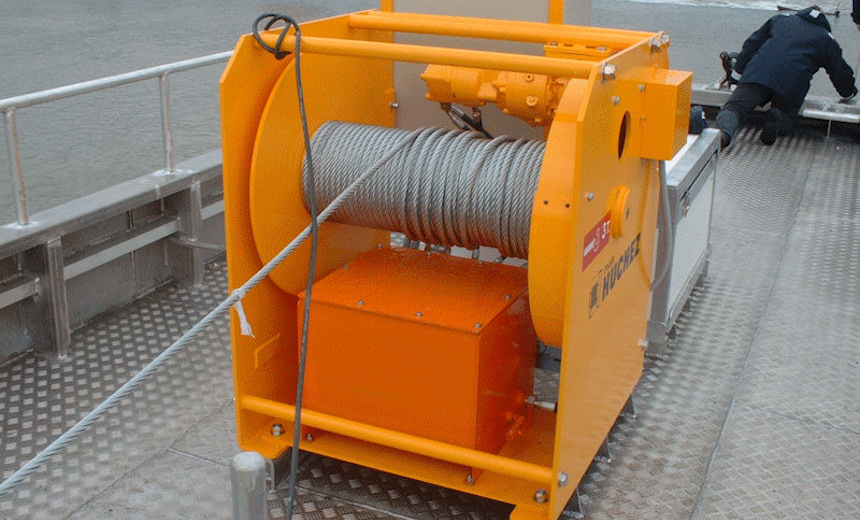 Presentation
1,6 t capacity hydraulic winch. This winch is used on a dam (maintenance).
Technical characteristics of the winch
Pulling speed of 12 m/mn, power: 24 V on batteries, wire rope capacity: 40 meters in diameter 16 mm.
Technical characteristics of the windlass
capacity of 800 kg, speed: 16 m/mn, power: 24 V on batteries, declutchable motor.
Options: manual control on the winch and the windlass, radio control on the windlass, integrated chargers: 230 V with power cable spooler.
Other equipment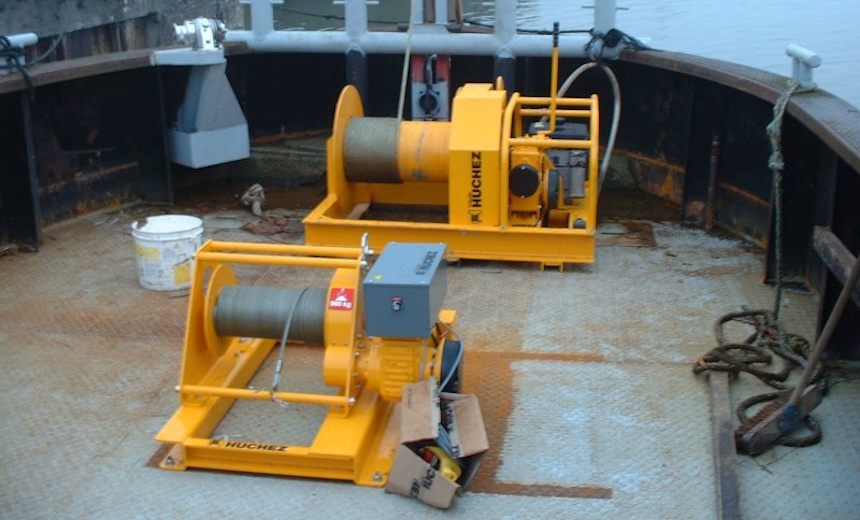 Presentation
Here are some examples of our achievements for the marine and river industry: IP66 winch for military applications, barge winch, manual winch, belt winches.